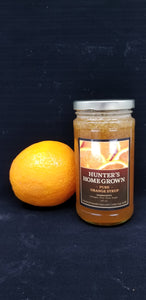 Pure Orange Syrup 12 oz.
Regular price $10.00 Sale
Automatic FREE SHIPPING on orders of $59 or more
Enjoy the bright refreshing flavor of our 100% Pure Orange Syrup
Use it to...
Glaze your holiday ham
Add it to your spiced cider
Use it in your holiday desserts & pastries
Add it to your cocktails
Add it to your cranberry sauce
Pour it on your morning pancakes, waffles, croissants, oatmeal, or dutch babies!
The possibilities are simply endless!
Our 100 % Pure Orange Syrup is made from Organic Navel Oranges that we grow ourselves. And we use the entire orange, which is cut up and simmered in light syrup made with water and 100% pure cane sugar.
Just three ingredients...pure and simple... 100% fresh organic navel oranges, pure cane sugar, and water... that's it! No artificial colors, flavors, preservatives,  G.M.O.'s or gluten.
Our syrup captures the pure essence of fresh oranges. That's because it retains all of its natural flavor and color which is extracted from the orange oil, zest and all the juice as well.
How do I use your syrup? 
Well, we leave that up to your unlimited imagination?  But here are some suggestions. Just shake your jar well before each use, as the natural pectin which thickens the syrup may have separated. Then use it as a condiment on anything from pancakes and waffles to hot cereal, coffee, tea, sparkling water, and cocktails. Pour it over ice cream; use it in milkshakes or homemade ice cream. Drizzle it on cakes, pastries, and other desserts. Use it as a barbecue glaze on chicken, ribs or salmon. Doctor it up with your favorite spices or herbs or add it to your favorite BBQ sauce. Let your imagination be your guide, and please send us your recipes and well share them on our web page!                                             
No preservatives, artificial flavors or colors, G.M.O. and gluten-free. 
Shake jar well before using it. Refrigerate after opening.