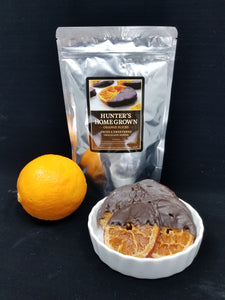 Sweetened Orange Slices Dipped in Dark Chocolate
Regular price $12.00 Sale
Automatic FREE SHIPPING on orders of $59 or more
Please Note: We can ship Chocolate Dipped items...to hotter climates during the summer months in, "Cool" boxes which can help the chocolate from melting.  Please call us for details at 209-225-3068 
Each bag contains a minimum of 5.65 ounces of chocolate dipped fruit which is approximately 10 slices                  
Enjoy the bright refreshing flavor of our Sweetened Orange Slices that we've hand-dipped into rich Dark Chocolate!  
We start with sweet and juicy organic navel oranges that we grow ourselves. After their carefully hand sliced, they go for a swim in a hot bath of lightly sweetened syrup made from 100% pure cane sugar and water. The cooking process sweetens and softens the oranges and removes the bitter taste of their rinds.
Yes that's right you'll be eating the whole slice… rind and all!
Then we load them by hand onto trays to dehydrate and preserve them, locking in all their wonderfully natural flavors and tanginess. Lastly, we hand dip each one in high-quality dark chocolate containing 70% cocoa!
These delightful confections pair perfectly with coffee, tea, hot chocolate or with a nice glass of red wine. Surprise your guests at your next party or use them as a garnish with desserts you've made. Your kids will love them too... or maybe you'll save them for yourself to enjoy during your next "Me time!" They also make great gifts for special occasions and holidays or present them to your friends as a great hostess gift.
Oranges are commonly known to contain a large quantity of vitamin C, however, their other qualities are often overlooked. Oranges are also rich in B vitamins, such as B1, folate, and pantothenic acid. In addition, they are a great source of vitamin A, copper, potassium, calcium, and dietary fiber. So if you're going to indulge in a sweet morsel, then why not make it our Sweetened Orange Slices Dipped in Dark Chocolate? You'll love them!
Here at Hunter's HomeGrown we never use preservatives, artificial colors, flavors, G.M.O.'s of gluten in any of our products. So instead of unhealthy chemicals, we use the highest quality packaging materials and procedures to ensure the freshness of everything you order.
Hunter's HomeGrown Chocolate Dipped Orange Slices are the ideal gift or treat for lovers of that timeless and delicious flavor combination.
Each bag contains a minimum of 5.65 oz of chocolate dipped fruit which is approximately 10 slices