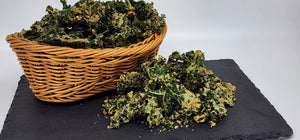 Cheesy Crispy Kale Chips 6.5 oz.
Regular price $25.00 Sale
Free shipping on all orders of $59 and above.
Chrispy Cheesy Kale Chips 6.5 oz.
Our kale chips have a wonderfully cheesy flavor from healthy nutritional yeast! All the flavor of cheese but without the calories!
We start with fresh curly kale for our chips! Then toss them in our really flavorful cheesy sauce made from sunflower seeds, pumpkin seeds,
cashews, nutrition yeast, smoked paprika, cayenne pepper, monk fruit (natural sweetner), garlic powder, 
cumin powder, onion powder, sea salt, blacj pepper, and red wine vinegar.
We dehydrated the kale at a low temperature 110° to protect all of its nutrition and it emerges as Crispy Cheesy Kale Chips destined for a snack bowl near you!
Super Healthy, Super Wholesome!
Real Food with Real Flavor that's Hunter's HomeGrown!